2019 Wildlife photography competition
Posted on Fri March 1, 2019.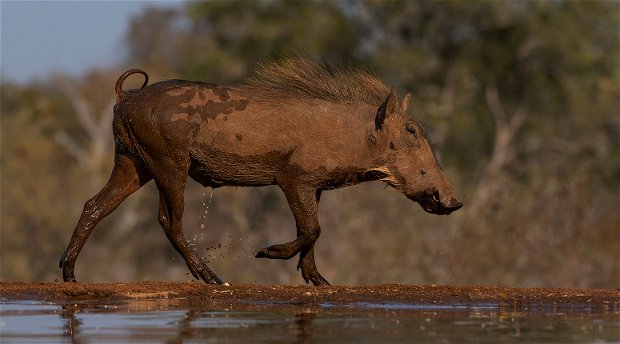 It was such a pleasure hosting this years competition winner Michiel Duvenhage and his wife Mart-Mari.
This is what they had to say about their experience.
It all started with a good friend of ours winning the competition last year and he told us to enter this year's competition. Luckily for me, Lance and Villiers picked my flying jackal for the overall winner. Villiers contacted me and put me into contact with Louisa from Indlovu River Lodge and the ball was set into motion for a fantastic experience. Villiers supplied me with good advice on the best time of year to go and suggested to go before the rainy season and the bookings were made.
Me, my wife, Mart-Mari and Trix Jonker (one of the finalists and a good photographer friend) set off on a two-day journey from Bloemfontein and we exceeded the speed limit a bit over the last stretch due to excitement and arrived two hours before we were supposed to check-in. Everything was ready – we even got a lunch that wasn't expected. Louisa showed us to our rooms and John was ready at the car to take care of our luggage. Our room had a magnificent view of the river bed and in a space of 10 minutes, we saw kudu, giraffe, waterbuck, impalas, Pumbas (warthogs) and elephant – just looking through our window. Our room even had a private outside shower on a wooden deck underneath a big tree.
We went to the afternoon hide early to see the setup and how everything works. From the word get-go, you get the impression that these people understand photography. From the Gimpro stabilization in the hide to the background that you can blur beautifully. Everything is set up before you get there. The water level is filled up, the ground is raked and even the smallest of leaves is removed. And just in case you get bored – there is snacks and drinks provided in the hide.
In photography, you do need a bit of luck, but IndlovuAt Close Quarters provides you with the best opportunity to get photos. They have the big five, 350 bird species and a lot of small game. We saw leopard and lions near the waterhole. We heard elephants near the waterhole and saw the rhinos in the bush. With patient, you will be rewarded with excellent photo opportunities. I am a bit of bird crazy and this place is a bird paradise. It gives you the opportunity to get very close to small birds. You can fill the frame with your 600 mm lens with blue waxbills and fire finches. You will need a wide-angle lens for the big game.
Louisa advised us to go on a game drive the first morning. They offer a unique opportunity at IRL that you are allowed to walk into the bush with a guide to the cheetahs – and that morning they knew where they were. Jonty – our guide – and his tracker found the cheetahs and we followed them and spend about 15 minutes with 3 males laying 5 meters from us under a tree. We were able to get a close-up experience with these magnificent animals in the wild. This was definitely one of the highlights of your stay at IRL.
Surely special arrangements would be possible, but on the normal menu, I sincerely hope that you are not training for any Olympic event because you will eat way too much. They prepare healthy "boerekos" in such a tasty way that you can't stop before everything is finished. You begin the day with rusks, coffee and tea and muffins in the hide. Back at the lodge, a full breakfast was served and we opted to skip the lunch. At supper we were treated to starters made on the fire and drinks of your choice, followed with two types of meat, 2 veggies and a salad and topped off with a delicious dessert. And just to make sure that you weren't hungry any more chocolates and coffee were served. This was the trend for all the evenings. I am not big on pumpkin and broccoli and stuff like that and they prepared it is such a way that I went back for seconds.
To conclude: what an experience – with a bit of luck you even have the opportunity to photograph the big five at water level. Fantastic bird photos. Great homely hospitality. The lodge runs like a well-oiled machine. Everything is in place, they are always on time and all the staff are very friendly and we felt like family after the four days.
Thanks to Louisa and her team at Indlovu River Lodge for this wonderful experience and to Lance and Villiers of At Close Quarters for running this competition. If we get the opportunity we will return to this wonderful place.