Is it a bird? Is it a plane? No, it's someone on a flying safari in Hoedspruit!
Posted on Fri February 17, 2017.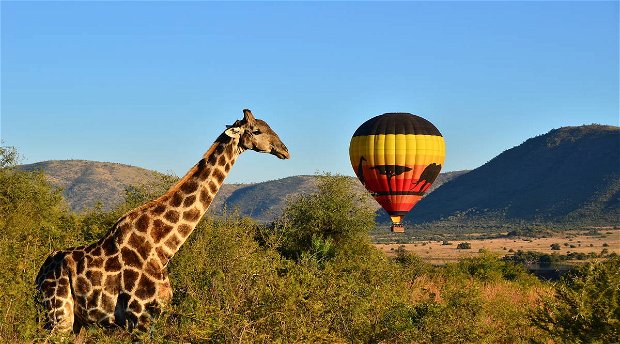 If you want to get a completely new perspective on African wildlife, why not try a safari with a bird's-eye view?
While most people choose to admire wildlife from the back of a safari vehicle, more and more people are combining their game drives with a flying safari experience. Indlovu River Lodge is the perfect base from which to experience a flying safari over the Hoedspruit area with its nature reserves, wildlife, birdlife, and – of course – the Blyde River Canyon. 
Flying safaris don't just take place in a plane, wildlife and nature viewings are also done from a hot air balloon or a lightweight aircraft, like a microlight. 
If you are looking for a relaxing nature experience with loved ones, ballooning is a breathtaking experience for the whole family. In the course of an hour you will go from skimming the treetops to rising to 2 000 feet above the game below. Let the gentle breeze be your guide as you drift slowly over the wild animals, leaving them undisturbed. Each adventure is capped off by the ground crew with a refreshing juice or a glass of fine South African sparkling wine. 
For the more adventurous, there are the microlight flying safaris. If you would like to go higher and faster than a balloon – this is for you. If you are lucky you might catch a herd of buffalo running across the plains as you zip across the sky. You can even combine your microlight safari with a brief flight lesson if you visit the Leading Edge Flight School, which is less than an hour's drive from Indlovu River Lodge. 
So, whether you take it slow on a hot air balloon or fly high in a microlight, you are guaranteed to experience wildlife from a unique point of view.
Get in touch and ask us to book you a flying safari as part of your Indlovu River Lodge package. If you want to give one of our photography competitions a try, a flying safari will make for some breathtaking landscape shots.
VIEW 2 NIGHT FAMILY SAFARI PACKAGE        VIEW 3 NIGHT FAMILY SAFARI PACKAGE
VIEW 4 NIGHT FAMILY SAFARI PACKAGE
Or contact Louisa at the Lodge: +27 (0) 15 383 9918 or email: [email protected]