Amateur Wildlife and Birding Photography Competition - Bi-monthly Winner September and October
Posted on Thu December 8, 2016.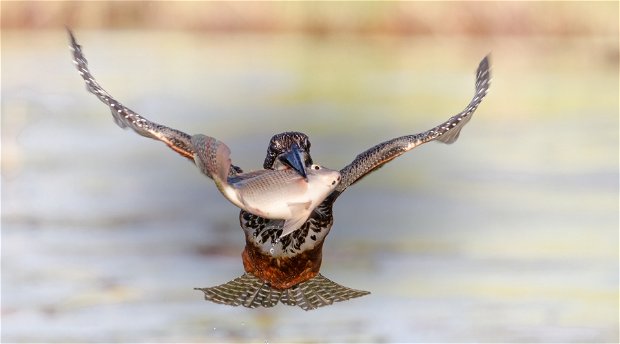 Congratulations to Simon Beevers! He is the Amateur Wildlife and Birding Photography Competition bi-monthly winner for September and October!  The stunning image above was selected by our panel of judges, and has won him a two-night, all-inclusive stay at Indlovu River Lodge, with access to our photography hides.
This winning photograph will also come into contention for the Grand Prize, which is an 8 night, all inclusive bush and beach holiday for two at Indlovu River Lodge and Strand Beach Lodge in the Cape Winelands.
What our judge had to say about this photograph:
"This image just jumped out at me and the reason should be obvious to everyone. It's totally arresting with the bird flying straight towards the photographer. The fact that water droplets drip from the struggling fish makes this event very real, but what I feel puts the cherry on top of an already stunning shot is the surprised look on the hapless victim. Something almost impossible to get, an expression on a fish!"
Here are the technical details of Simon's winning shot:
·        Title: Kingfisher with lunch.
·        Location: Chobe River, Botswana
·        Date taken: 28/11/2013
·        Description: Giant kingfisher flies off with huge lunch, caught in the shallows of the Chobe River.
·        Common name of specie: Giant Kingfisher
·        Camera settings: Caon 7d; 300mm/f/2.8L is ii + 1.4 convertor; 1/2000 second at f/8.0; ISO 640.
The closing date for the Photography Competition is 28 February 2017.  
For more info on our yearlong Amateur Wildlife and Birding Photography Competition, please click here.
For more info on our Photographic Packages at Indlovu River Lodge, click here, or contact Louisa at
Lodge: +27 (0) 15 383 9918 or email: [email protected]