Amateur Wildlife and Birding Photography Competition - Public Favorite December.
Posted on Thu February 2, 2017.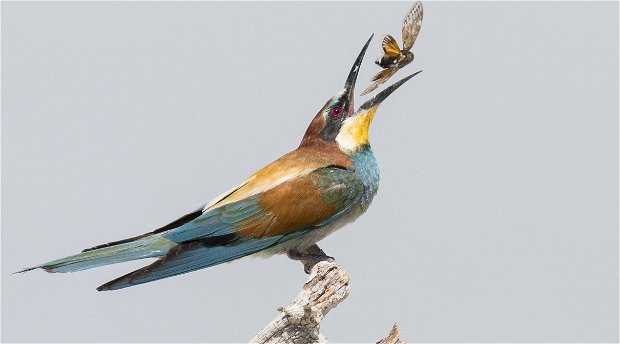 We are proud to announce our Amateur Wildlife and Birding Photography Competition's Public Favourite Winner for December!
Another great image by Braeme Holland - as voted by our loyal followers on Facebook.  This image wins him the monthly cash prize of R500.
Braeme's image got 83 Likes, 2 Shares and 14 Comments on Facebook.
Title: European Bee-eater
Date: 26 December 2016
Location: Eden on the Bay,Blouberg, Cape Town
Description: I was tipped off by a friend that the European bee-eaters were nesting quite near to my home in Cape Town. I was really excited as i had never seen nor photographed them before.
I was fascinated how they flew in and out of their nest, a hole in the sand, bringing bees, wasps, flies,moths to their hungry young. I was also thrilled to capture this image where an adult bee-eater was attempting to catch food for its young. It was mission successful for both bird and photographer!
Camera: Canon 7dmk2
Lens: Canon 100-400mmmk2
Apperture: f6.3     Shutter speed: 1/3200    ISO 640
LET THE ENTRIES ROLL IN!  THE COMPETITION ENDS 28 FEBRUARY 2017.
The Amateur Wildlife and Birding Photography Competition has prizes worth R184 400 up for grabs!
The Grand Prize is an 8 night, fully inclusive Bush and Beach Safari for two, at Indlovu River Lodge in the Greater Kruger Park (4 nights) and Strand Beach Lodge in the Cape Winelands (4 nights).  This includes a morning trip with Apex Shark Expeditions, owned by world renowned Chris and Monique Fallows, for the winner to photograph great white sharks.
The runner up receives a four-night, all-inclusive, guided photography safari for two at Indlovu River Lodge.
Monthly Winner – Public Favourite Most Likes on Facebook
R500 cash and of course the all-important bragging rights that is part and parcel of being a winner
Bi-monthly Winner – Selected by Panel of Judges
Two-night all-inclusive stay at Indlovu River Lodge with access to our photography hides.
The winning photograph will then come into contention for the Grand Prize
Be sure to enter and make the most of your chances to win the Amateur Wildlife and Birding Photography Competition!