Amateur Wildlife and Birding Photography Competition - Public Favorite November.
Posted on Fri January 6, 2017.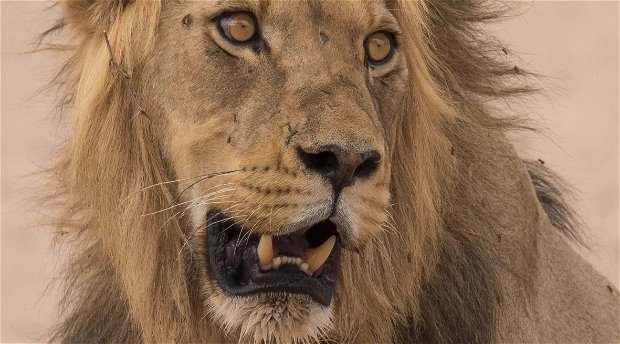 We are proud to announce our Amateur Wildlife and Birding Photography Competition's Public Favourite Winner for November!
Another great image by Braeme Holland - as voted by our loyal followers on Facebook.  This image wins him the monthly cash prize of R500.
Braeme's image got 90 Likes, 24 Shares and 10 Comments on Facebook.
Title: Kgalagadi lion
Date: 5 November 2016
Location: Kgalagadi Transfrontier Park
Description: It was late afternoon on my first day of my maiden journey to the Kgalagadi Transfrontier Park. It was late afternoon and we stopped at a waterhole not far from our destination of Mata Mata restcamp. I spotted a male lion relaxing under a nearby tree. After some patient waiting he got and and majestically made his way to the waterhole to quench his thirst in the sweltering dry heat.  I watched this magnificent animal drink , and waited for him to lift his head and fired away with my camera hoping for the best result!
Specie: Male lion
Camera: Canon 7dmk2
Lens: Canon 100-400mmmk2
Apperture: f6.3
Shutter speed: 1/2500
ISO 500
Let the entries roll in!  The competition ends 28 February 2017.
The Amateur Wildlife and Birding Photography Competition has prizes worth R184 400 up for grabs!
The Grand Prize is an 8 night, fully inclusive Bush and Beach Safari for two, at Indlovu River Lodge in the Greater Kruger Park (4 nights) and Strand Beach Lodge in the Cape Winelands (4 nights).  This includes a morning trip with Apex Shark Expeditions, owned by world renowned Chris and Monique Fallows, for the winner to photograph great white sharks.
The runner up receives a four-night, all-inclusive, guided photography safari for two at Indlovu River Lodge.
Monthly Winner – Public Favourite Most Likes on Facebook
R500 cash and of course the all-important bragging rights that is part and parcel of being a winner
Bi-monthly Winner – Selected by Panel of Judges
Two-night all-inclusive stay at Indlovu River Lodge with access to our photography hides.
The winning photograph will then come into contention for the Grand Prize
Be sure to enter and make the most of your chances to win the Amateur Wildlife and Birding Photography Competition!