Wildlife Photography Blog - Nyala and Baboon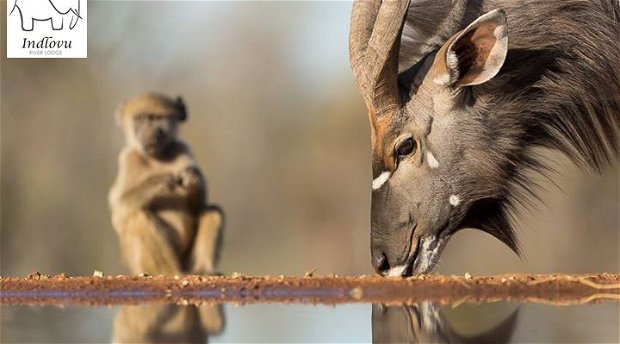 Wildlife Photography Blog: Nyala & baboon - Photo taken at Indlovu River Lodge
This breath-taking photograph taken by Stu Porter is of a Nyala at the sunken photography hide here at Indlovu River Lodge. In the background is a blurred-out baboon. This image brings a sense of calm and serenity with the beautiful colours brought in from the blurred background.
The Nyala inhabits dense woodlands and thickets along permanent water. It is very secretive and more easily seen at night. Nyala produces dog-like, barking sound to alert other members of the group about upcoming danger and relies on the alarm calls produced by baboons, impala and kudu to avoid predators.
Here are some tips to improve your wildlife photography:
Gear: An interchangeable lens camera is best but you can use a compact with a long zoom too. If you're using a camera that can use numerous lenses take a longer lens with you so you can work from a distance that doesn't make the animal feel uncomfortable.
Patience: When it comes to nature reserves, you can go one day and end up with nothing and return a few days later to find the water's brimming with wildlife.
Focus on One Subject: If you're focusing on one subject make sure the eyes and face are sharp and throw the background out of focus with a wider aperture to stop any distracting backgrounds pulling attention away from your subject. Foliage, particularly when it's blurred, makes a great, uncluttered background.
Click here for more information on the Photographic Safari Packages at Indlovu River Lodge.
For more information about our next Wildlife Photography Course, contact Louisa at
Lodge: +27 (0) 15 383 9918 or on email: [email protected]