Birding Photography Blog - Dark Chanting Goshawk in flight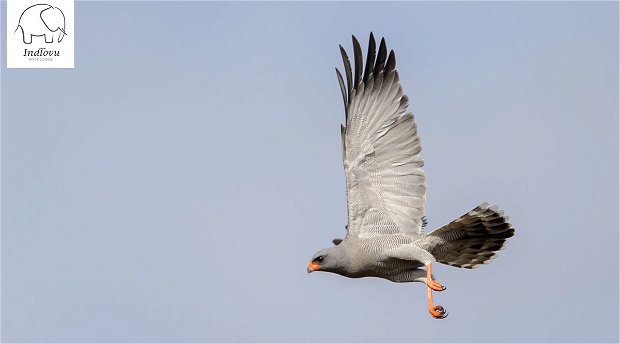 Birding Photography Blog: Dark Chanting Goshawk - Photo taken at Indlovu River Lodge
This is a spectacular action photograph of a Dark Chanting Goshawk ready to catch prey from the ground taken by Albert Froneman here at Indlovu River Lodge.
The dark chanting goshawk is a bird of prey, often seen in full view, perched upright on long, orange-red legs. The dark chanting-goshawk feeds mainly on rodents, birds and reptiles but will also take frogs and insects. It typically hunts from the perch, spending long periods attentively scanning its surroundings before swooping down to catch prey off the ground. Just like it is doing in the photograph.
Birds of prey are some of the most exciting wildlife subjects you'll ever photograph, but their fast movements and the bright sky behind them pose big obstacles for photographers. The majestic presence of birds of prey and their elegance in flight makes for striking bird portraits and on-the-wing action photos alike. Birds of prey are notoriously tricky to find and photograph in the wild.
Here are some tips for perfect bird portraits:
Go telephoto: You don't need masses of specialist kit to shoot bird portraits. You will be able to get by with just a kit lens and your DSLR, but a telephoto zoom lens with a 300mm, or even 400mm, setting is a great asset for really striking wildlife shots.
Three legs better: Another piece of kit that will make a big difference to bird portraits is using a tripod.
Aperture priority: Get out of auto mode and switch to aperture-priority as this will put you in control of your depth of field.
Stop the shakes: Crank up your shutter speed to at least 1/500 sec (we chose 1/1000 sec) to avoid camera shake and make sure you can keep up if there's any sudden movement.
Watch the background: Before you decide exactly how to frame your shot, look for a clean and uncluttered background behind the bird to avoid it being a distraction.
Switch to continuous mode: Switch to continuous shooting mode. This will allow you to snap off a quick volley of shots as your subject glides past.
Stand downwind: Watching the bird's behaviour will help you figure out where to stand to get the perfect shot.
Click here for more information on the Photographic Safari Packages at Indlovu River Lodge.
For more information about our next Photographic Course, contact Louisa at
Lodge: +27 (0) 15 383 9918 or on email: [email protected]